Elevator Diaries
Important to preserving the history of the country grain elevator are the stories and memories of people associated with the elevator -- whether a farmer delivering grain, elevator employee, or someone just driving across the wide open expanses of the prairie. Here are a few that Society members and others have shared. Those in bold are the most recent postings resulting from the American Profile story of Jan. 14-18, 2009.
---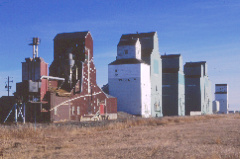 ęBruce Selyem
Warner, AB
My grandfather used to manage one in a small village called Barons, Alberta. In the year or two following my birth in 1965 he killed himself at his desk. My father found him first.
My grandfather was a very proud man. I am told he did his job very well and was a good man. This is the story I'm told by my mother, his daughter: The company accused him of stealing two grain cars of grain. No matter what he did to prove his innocence they would not accept it. His pride would not allow him to be labeled a thief and as a result he shot himself. Soon after the company found those two cars abandoned on a side spur, forgotten by the company.
Anyway it is a shame to see these powerful buildings being torn down. - C. B., AB, Canada
---
My Great-Grandfather, Charles H. Donnel, owned and operated a grain elevator in the small town of Westervelt, Illinois beginning sometime around 1920 until about three years before his death in 1942. The original elevator was first a wooden structure until 1907 when it burned the first time, and then was replaced by a concrete structure. It was struck again by fire in the 30s and 40s. I can remember seeing the old Purina sign painted at the top of the elevator as a child in the late seventies. There are a lot of memories my grandfather passed on to me about his father and that grain elevator. Although the original building no longer exists the memories of a bustling small community still live on in the pages of the histories of Westervelt, Illinois. - M.D., Westervelt, IL
---
My father, O.M. (Mac) Seaton, was an elevator and feed mill contractor in his early days and built many of the old "cribbed" elevators and feed mills from the 40's through the 60's.
He started as foreman for Victor McCurley then later had his own construction company. Also, at one time he was the only Fairbanks Morse scale installer and tester in Montana. He constructed many elevators up on the highline and some of the companies he built for included: General Mills, Greeley Elevator Co., Farmer's Union and various independents.
As the concrete elevators became more popular, his type, the cribbed elevator, became obsolete. He suffered serious allergies from the grain dust and his age were factors for retiring. - J. S. S.
---
They were along State Road 136 in Indiana. There are two standing one in Lizton, IN, and the other in New Ross, IN. They have long been sold to other people, but the memories still linger. My grandfather bought the one in New Ross, IN. It was painted orange. He didn't live far from the elevator and could walk to work. My uncle owned the one in Jamestown, IN. I have fond memories of riding to the elevator with my mother in the grain truck from my parents farm to sell the grain to the elevator. We would go to the office and wait for someone to hoist the truck for us, and let the grain fall out of the truck into the elevator. I always got a glass bottle of coke, and a hand full of red peanuts, from the glass peanut machine. Thanks to my aunt, who worked in the office. - Flowergirl (email id)
---
When I was a child in the early 1970's I would stay with my grandparents. Their house is no longer standing but it was down the highway from the elevator, actually very close to where the old stockyards were next to the rail road tracks.
I remember looking out my grandmother's kitchen window everyday and seeing the elevator. Being a child from California it was not anything we would see living in the suburbs or anything we knew as an elevator.
One of my favorite memories that I would laugh and tell my kids about was when there were lighting storms. My grandmother would make us stay away from the windows because she would say the lighting could hit the elevator. Now I don't know if that actually ever happened but I stayed away from those windows. - T. M.
---
My Uncle Denver operated the one in Sulphur Springs, IN. Wilson Grain was always busy and I was able to "help out" at age 10. From watching my Grandmother keep the books, to mixing and filling feedbags, watching the trains go past, and my favorite activity... chewing a handful of wheat until it turned into gum. And on hot days it was way too satisfying to drop a dime in to the Coke machine for one of those small bottles of Coke.
Every once in a while my cousin and I would sneak into the phone booth in the elevator (communicated with the office) and look at the, um... shall we say racy pictures the workers had taped up. I have not been to Sulphur in a long time and don't know if the structure still exists, but it is a sweet spot in this 54-year old's brain. - Jeff
---
I grew up in Montana and while they were just old buildings to lots of people, the grain elevators were landmarks for my sister and I in the back seat of the car. The grain elevator in Carter was the about half way between my mom's house in Great Falls and my Grandma's house in Fort Benton.
I went to college in Bozeman and every time I drove to see my mom in Great Falls I saw the elevator in Manhattan and the one in Belgrade. My husband looked at your photos with me and laughed about the name Manhattan. And I told him that he shouldn't joke. That grain elevator meant that I was almost done with my very long drive back to school.
We lived in Cascade for a while so I saw that one and the one in Ulm every day. I lived in Choteau, Montana for about 10 years. There is a light on the top of that one. My husband and I were teenagers and he had just moved to this very small town from a city where you couldn't really see the stars at night. He said some silly romantic thing about wishing on "the brightest star over there." I said, "You mean the light on top of the grain elevator?" It's a joke that we tell to this day.
To make a long rambling story come to an end, I want to thank you for taking these pictures. I didn't really realize the importance that the grain elevators had in my life until I read that article and looked at your website. I don't live in Montana anymore and I very rarely go back, but I know now that if I do, I will pay closer attention to the "landmarks" of my childhood, and be a little sad if they are no longer there. - M. B., Vandergrift, PA
---
Just off of I - 15 between Downey, Idaho and Preston, Idaho is a grain elevator that I awoke to every morning I was at my grandparents home on the west side of the valley on the "string" between Oxford, ID and Clifton, ID. It is in the northern end of Cache Valley next to the railroad that goes through the middle of the valley. Although I never took the ride a lot of the family would ride horses through the "slough" in dry weather to the elevator and then back to my grandparents ranch. The elevator has always held a fascination for me.
After we married and lived on the eastern side of the valley, one of my daughters was best-friends of the daughter of one of the workers at the Franklin County Grain Growers and they would go to work with her dad, take a lunch and spend the day there while he unloaded grain trucks. Their highlight of their day was putting pennies on the track and having them flattened when the train ran over them. I don't think there was more than one train a day. - T. P., Idaho
---
..........brought back memories of an 18-year old kid trying to make enough money to enroll in college by painting elevators. Do it again? Never!
We slept in mummy bags on folding army cots in the driveways of the elevators, in fact right on top of the grates so the mice wouldn't crawl in with us. We ate a lot of Dinty Moores's stew heated in the can on a hot plate, or even cold. One trouble was that my lead partner, Casey Keltz, had a company checkbook and he could advance our salary and pay for other expenses. Unfortunately we did not take out for taxes so at year's end we owed the government a bunch and did not have it.
Two other crews were out on the road that summer; Casey's dad Buck Keltz and his partner John Burnett, and PG Tschache (a nephew of the bosses) and Don Mee. Old John was a giant of a man, a good worker and could not read nor write. - J. M., Bozeman, MT
---
My Dad and I visited the elevator in Harris, IA in the 30's. We hauled coal with two wagons and a team of horses on each to stock up our country school coal bin south west of Harris. - E. Schroder, IA
---
In 1916, a one cylinder 15 horsepower Fairbanks Morse gas engine powered all the machinery at the Rice Elevator. To start the engine there was a petcock on top of the combustion chamber that they would open and pour in a little ether (starting fluid). This also served as a compression release. Then they would put one foot on the spoke of the flywheel and give it a hard push and hope it would start. This was very dangerous. At the Boyd Elevator with a smaller engine, a man was killed when he could not get his foot free from the fly wheel when the engine started. - F. F., The Dalles, OR
---
I suppose every thing that happens when you are 11 years old seems like a big deal-but this really was. My family bought and moved a grain elevator from a town 3 miles away, to our homestead in Faulk County, South Dakota. Since that elevator is now my home from May to October each year, you could say my future moved too.
Times were especially tough on the Dakota prairie in the 1930s, and my family, like many others moved off the farm, seeking a better life in Sioux City, Iowa. Things were not better in the city, and dad returned to farm in Dakota. At an auction sale in 1937, my dad bought a grain elevator in the defunct town of Millard, SD for $200. In the summer of my eleventh year, 1941, farming had improved and my dad and uncles decided it was time to move the elevator to our homestead for family use.
The elevator was (and still is) 50 feet tall, 20 feet wide, and 40 feet deep. It has eight grain bins and is built of stacked 2x6s and 2x4s. It had been a Bagely elevator, built in 1900.
My dad's brothers, Otto and Julius, began the project just after I returned to the farm for summer vacation. Otto and Julius had used huge jacks to lift the elevator and slide small, wide moving wheels under it. I can remember being in, around, and under everything, but nobody shooed me away.
They rented the Faulk County Cat 60, but it could only move the elevator a few yards, so a neighbor's Cat 30 was added. With two additional tractors, we managed to get it 1/4-mile down to the gravel road. It was only 3 miles to the homestead, but they decided they needed to take a 7-mile route to stay on good gravel roads. That's when the Sheriff showed up and said we couldn't go any further because our permit had been denied.
After a few days of thinking, arguing and lawyering, my dad arrived from Sioux City and procured some more moving wheels, the Edmund's County Cat 60, and soon after, the Sheriff showed up with our permit. I knew my dad could do anything. With two big Cats, we were in business. I can remember that huge structure creeping along as I raced around it on my bike.
We had a couple of close calls. My uncles feared the whole thing would tip over backwards on the hill up to the farm. One of the jacks fell over as we were lowering it onto the foundation, which was pretty scary after bringing it so far. But by harvest time that year, that elevator was full of my family's own grain, as it was for the next 23 years.
By 1974, my dad and brothers had long since retired, and I purchased the original homestead and most of the land, including the elevator. Over the last 25 years, it has been my ongoing project to refinish the elevator as a live-in family museum. I have four bedrooms, kitchen, living room, and a dining room sitting on top of an old cook-car chassis. This year I'm working on the third floor soda fountain, because everybody knows a grain elevator's no good without a decent soda fountain.
If you find yourself on South Dakota, Route 20, near a spot on the map that's called Norbeck, I'd love to have you stop by. I promise it will be a moving experience. It has been for me, for over 50 years. C.W., Faulkton, SD
---
I've been in the grain business for 25 years and I still marvel at the majesty and solitude of these old structures. I have always regretted not getting a picture of the classic elevator structure in Dassel, MN that burned down several years ago. In my childhood we would drive to Highmore, SD to visit relatives. Along the way the name of an elevator "town" is lost in my memory but the three small Peavy elevators, all in a row, are not. Alpha, MN has/had a single cement silo elevator with radial bins. My elevator has 10 government bins on the west edge of town that proclaim JANESVILLE in a bright sunny rainbow. The elevator at Good Thunder, MN is painted in a giant mural depicting southern Minnesota history. I've rambled enough. Your subject matter is dear to me. D.L., Janesville, MN
---
I was day-dreaming about the "good ol' days" not long ago, and was thinking of the time I was hoisting this farmer's grain truck up on the lift as he didn't have a hydraulic hoist on his grain box. I had asked the farmer if his truck was in neutral and he assured me it was out of gear. To make a long story short, it wasn't, and of course the front wheels rolled off the narrow lift platform as it reached its highest apex. With much luck, the front bumper of the truck hung up on the lift platform as the truck started to drop, and I was able to lower the sucker before it came crashing down on my scale, probably knocking it off its pins. J. S., Townsend, MT
---
Another story I recall in horse and buggy days, was about a farmer that had just bought a new set of real heavy duty harnesses. While the front wheels of his wagon were up and the horses were outside on the ramp, a train came by and whistled just then. The right hand horse fell off as both horses jumped. The rear wagon wheels wouldn't go over the lift, so the farmer finally had to cut one of those new tugs to let the horse up. J. O., Burns, WY
---
Cory tells of an incident at Chadburn when he went over to load a boxcar of grain. This elevator was not kept open on a continual basis. He prepared the boxcar to load grain, put the spout into the car and started up the elevator. As the leg started moving it picked up three skunks which had somehow entered the elevator and were in the boot. These skunks spraying as they went up were thrown into the spout leading into the car. Cory cancelled the car and approximately two months later after many treatments of tomato juice and vinegar was able to load out this carload of grain. M.D., Bozeman, MT
---
The O&M Elevator in Annandale was who got me my social security card as a teenager. I made some spending money by helping unload car loads of coal into the storage coal bins or delivering coal to homes and business in town, even to South Haven and Fairhaven, MN - Leonard Larson was the elevator manager at the O&M Elevator then. All the grain shipping of course was 40' box cars and I remember coopering the car door area with the wood grain doors. Coal too was received in 40' box cars. D.S., Kalispell, MT
---
I last photographed a train on the Condon on March 21, 1990. By then the run was still once a week - but only if needed, which meant there were weeks with no train at all. The official abandonment was Nov. 27, 1992. The track was torn up in April 1993. On March 21, 2000, I went back up that line and repeated a shot that I had made ten years earlier to the day - in fact, to the minute - but without a train and without tracks - only an empty, weed-grown roadbed. Doggoned, it's still hard to drive up there. W.D, Vancouver, WA
---
For quite a few years Dawn Grain Elevator also served as the Dawn post office (don't know dates). To this day there is still a slit cut in the tin siding to drop letters through (similar to a door with letter door access). As a kid I know we really looked forward to going to the elevator - just happened to have a pop machine and peanut machine - can also remember standing around the old pot belly stove - usually burned coal in it - was a real gathering place for local farmers. Dawn Grain also used to sell coal - would get a carload - deliver to customers - quit doing this in early 60s. Why am I telling you this? When my daughter was 5 years old I dug around in the old coal yard and found a lump of coal. You might have guessed, she got it in her Christmas stocking. My daughter will be 18 this Christmas and will be very disappointed if she doesn't get her "usual" lump of coal from the Dawn Grain Coal Yard. D.L., Dawn, OH
---
One story that I have heard is that a new manager, Ted, from Butte, Montana came to run the elevator. Bill, a farmer from Galen Springs, south of Willow Creek came in to meet Ted and arrange to haul in his wheat by team and wagon. His first question was how much did Ted intend to steal off each load? Ted replied, "Oh whatever is customary I guess". Bill said that sounded fair to him and they made the deal. Supposedly neither one cracked a smile! Story was told to me by my uncle, Willis, who lived next to Bill. R.L., Three Forks, MT
---
Our local elevator closed for business on December 15, 2000 and only yesterday (January 25, 2001) what is to be our last train pulled out the last of the loaded hopper cars. The steel first arrived in Milo from Vauxhall in 1924 so it is depressing to see an era come to an end. Our little village once boasted seven elevators, however through fire, amalgamations and destruction we are now down to two grain structures. Both of those are slated for demolition though one of the these originals (Searle Grain Co.) has been converted to a fertilizer facility and hopefully will be spared. I.T., Milo, AB
---
I can remember as a small girl in the 40's going to the elevator in town to pick out feed bags with print on them and mom would make us dresses out of them. Sometimes we had to wait till more bags came in to get enough material for our dresses. Then for a while we would get new pillow cases as the bags only had a colored border on one end. I also remember when I was in high school, we made our homecoming float in the elevator, probably the scale. We would pull ourselves up to the top of the elevator with a rope that was somehow hooked to a platform. At the time it was so much fun but could have been dangerous if we would have lost control of the rope. My dad took grain to the elevator for many years. J.R., Appleton, MN
---
I LOVE Kansas and was fascinated by the grain elevators. I sure wish I knew how they worked. I love looking at them on the horizon and coming upon them driving along the straight dirt roads that crisscross Kansas. I am a farm girl by heart I think. P.C., Ashland, OR
---
Ken's father, Leo, drove a team of horses to the elevator to unload grain. One of his favorite stories relates that a blind horse was used to provide power to elevate the grain from the pit. In later years a stationary gas engine was used. R.S., Wahoo, NE
---
Out of our conversations came the sudden discovery that my father had worked in the West, albeit for short periods of time. He related that when it came time to ship grain to the elevator, it was shoveled by hand from the wooden grain bins in the fields into steel-wheeled grain wagons. A team of horses provided the motive power to transport the grain to the nearest elevator, which in my Dad's case, was in Wimmer, Saskatchewan, three miles away. A visit to Wimmer today finds only a wide spot on the highway with any evidence of civilization gone. At the elevator, the horses would pull the grain wagon into the unloading shed. The horses were unhitched and tied up outside. The load was weighed and then the front of the grain wagon was lifted by a winch and the grain flowed by gravity out the back of the wagon, through a floor grate into the pit, and then was elevated into the grain bins above. A gas engine powered the belts to elevate the grain. The farmer was given a chit for the tonnage just delivered and this was then presented to the local bank for crediting to the farmer's account. After three months on the prairie, my Dad then headed back by train to Ontario. For him it had been a marvelous adventure - a different environment, new friends, a load of memories and a lot of backbreaking work. - G.S., St. Marys, ON
---
One point of interest was when a farmer brought in a load of grain. The open pit door at the back of the wagon was opened and before they could start to raise the wagon the team of mules started to back up and kept going till one of them fell in the open pit. They got them unhitched somehow, but couldn't get the mule out. Finally they decided to run corn into the pit till it was full enough to bring the mule to the top. I did not see this but know for a fact that it happened. -R.W., Gruver, IA
---
Greenway Elevator is located in a now deserted S.D prairie town, that once had a population of about 140 people in the 1940's. It is located in north central South Dakota two miles from the North Dakota border. This elevator was moved in the 1920's from Madra, S.D. which is two miles north of Greenway. The movers used two horses and a block and tackle! My father was the owner and operator of this elevator from 1940 until 1968. I am presently 51 years old and grew up working in and around this elevator. I helped after school and on Saturdays unload train cars of coal, seed in the spring, and carloads of salt blocks for the area farmers. We also shipped all of our grain by traincar and I can remember "coopering up" the oldbox car doors, and sweeping out all kinds of last load residue, such as sawdust, corn, soybeans, coal, etc. I can still remember the waning days of the local stockyards, which were just south of the elevator. In the early 50's an occasional hobo would stop with the train and ask for a meal. On Saturday mornings locals would sit in the office on wooden chairs and I heard their stories of the 1930's, current gossip, farming tidbits, and would watch the occasional card game.
---
I remember going with my dad back to Pasha, west of Rock Lake, to help Mr. Copely overhaul the gas engine which ran the leg that carried the grain to the top of the elevator before electricity. It was always most exciting to be in the elevator when the farmers drove the teams in to dump the grain. In the busy harvest it was nothing to have twelve or fifteen wagons waiting to come in. J.T., St. Cloud, MN
---
I have always been associated with grain except for 5 years in college. Many concepts and ideas have developed over the years. Electricity came in 1916. After many years, motors were installed in the head house which eliminated the need for the rope drive. I am currently in my mid 90's. D.R.S., Federal Licensed Grain Inspector, Belmond, IA
---
The 1916 Iowa corn crop was especially wet due to abundant rain and low temperatures during the growing season. That fall when I was ten years old my duty after school was to go to the elevator and run samples on the Brown Duval moisture tester. While accurate, if the explicit directions were followed, it was a time-consuming enterprise. Each sample required approximately thirty minutes to run. These samples were taken each day from corn delivered to the elevator. My only restriction was that I had to be in bed by 10PM - D.R.S, Des, Moines, IA
---
Youngsters of in my day were expected to work on the family farm but didn't always do so with total seriousness. As was common with these old elevators, the floor under the back of the wagon was lowered to allow the wagon to empty and then the horses pulled it out. I got quite a laugh when my surprised father stepped unexpectedly into the open pit. My laughter quickly subsided with his stern look. M.B., Saidora, IL
---
I found records in the office dating from December 2, 1919 through 1947. The most interesting letter of May 11, 1943 was from the manager to his supervisor apologizes for the tardiness of his April 4th meeting minutes. Due to the Hitler problems there was a shortage of young men to help with the spring harvest. I even found canceled checks dating from 1944 to 1953 some of which still bore the revenue stamps sold to help finance the war. K.D., Scott, SK
---
As a young girl in grade school one of my favorite activities was traveling into the country with my Dad on the weekend and visiting all the Greely Elevators along the highline. I always enjoyed visiting with the agents (just like my Dad) and hearing all about the weather and how the crops were looking.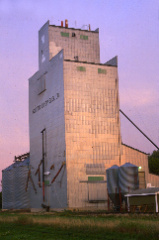 ęBruce Selyem
Rolette, ND

Two things were particularly fun. The farmers would bring the grain in their big trucks and get weighed on the massive scales. Then they would dump the wheat and great billows of grain dust would fill the air. The empty truck would then be weighed again and I guess that is how they figured the number of bushels the farmer delivered.

The second exciting activity for a little six or seven year old was to watch the pipe coming out the top of the elevator fill the railroad cars waiting on the track along side the elevator. I'd watch that grain come shooting out by the hour.

When I grew up I used to type railroad claims for my Dad in the company offices and I remember being surprised when seeing the ratio of wheat to rodent parts in the loads that went to the flour mill. N.G.S. Salt Lake City, UT
---
I remember the time back in Chester, MT about 1976 while serving as a deputy sheriff for Liberty County. Seems the county attorney at that time was notorious for his high stake illegal poker games in his second story office across Highway #2 from several grain elevators. The sheriff wanted to "get the goods" on the county attorney, so he dreamed up a plan for a couple of us deputies to ride the manlift up to the cupola of the elevator having the best vantage point to look down into the window of the attorney's office during one of the weekly late night poker games. The window shade on the attorney's window that faced us was half way down, limiting our view. We caught a glimpse of the game now and then, but couldn't swear that money was passing between players. We spent darn near the whole night in that dusty cupola, accomplishing little more then becoming very dusty and very cold. J.L.S., Townsend, MT
---
Having been born and raised in Chicago, as a child my exposure to grain elevators and farms was limited to the motor trips back to Iowa and Nebraska to visit the families of my parents. To me, looking at railroads and grain elevators was always one of the best parts of the trip. J.K., Wonder Lake, IL
---
Having grown up on the bald-headed southern prairies of Saskatchewan and surviving through so many elements of the weather, the grain elevators certainly marked our way, as well as storing thousands of bushels of grain. L.W.A., Edmonton, AB
---
My brother and I used to work in elevators and even built some new ones from the ground up. In 1948 we built a new elevator in Fairview, MT for the Farmers Union GTA. Then went to Brockway to build another new one which took all winter and spring due to the severe winter of '48 & '49. I shall always remember the cold and blizzards and blowing snow out on that prairie.
I think it took about 9 carloads of lumber and material to build one. If each of the crew drove a 100 lb. keg of 20 penny spikes a day, he put in a pretty good day and had some blisters. R.D., Missoula, MT
---
I am a New Englander, born and raised, and until three years ago, I'd never been west of the New York State Mountains. Then I traveled to Minnesota to help a disabled friend return to Massachusetts. I fell in love with the beautiful, flat farmland and with the old and new grain elevators that rise up like cathedrals in my mind.
This past summer my husband and I drove to South Dakota and back and once again I was overwhelmed by the beauty of the plains. Here in New England, which I love, of course, everything is so "closed in" because of our hilly and rocky landscape. Out where you are is so open and free - just stunning to a hemmed-in New Englander. Then to see the grain elevators dotting the landscape was a sort of religious experience! M.E.L., Gardner, MA
---
If you have stories to share please email them to the Society.
For more information write:
The Country Grain Elevator Historical Society
155 Prospector Trail
Bozeman, MT 59718-7988
call 406.388.9282
fax 406.388.9283
or email bselyem(at)country-grain-elevator-historical-society.org
(include your name, address & phone number)
---